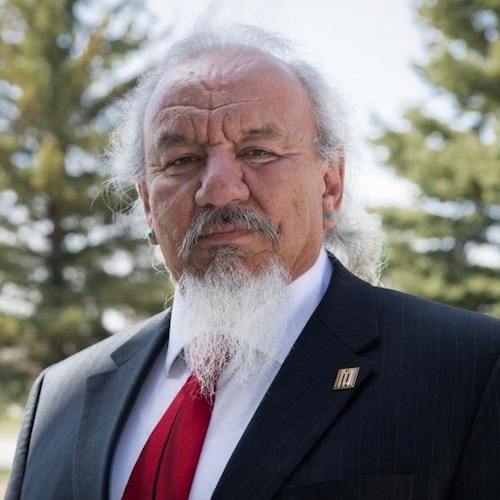 Sergio Maldonado (Democratic)
Superintendent of Public Instruction
P.O. Box 1826
Lander, Wyoming 82520
Map It
Biography
Born on Wyoming's Wind River Reservation, Sergio Maldonado has spent his life involved with education. A graduate of Brigham Young University, Sergio also has a master's degree from Arizona State University. He is a doctoral candidate at the University of Wyoming.
Sergio has been a classroom teacher, a college administrator, and a school board trustee. These experiences give him a broad understanding of the critical challenges we face in educating our young people and giving them the tools to be happy, thriving community members.
Sergio is a 2009 graduate of Leadership Wyoming, the state's premier leadership development program. Sergio was appointed to the National Advisory Council on Indian Education (NACIE) by President George H. W. Bush.
Experience
Lifetime public educator. 23 years teaching in elementary, high school, and
college classrooms in Arizona, New Mexico, and
Wyoming.
Enrolled Northern Arapaho/Mexican American
Diversity Coordinator/Instructor Liberal Arts-
Central Wyoming College 2008-2014
National Advisory Council on Indian Education
(NACIE)- Appointed by George H.W. Bush- 3 year
term
Education
Bachelor of Arts, Brigham Young University, Secondary Education/ Native American Studies
Masters in Education, Arizona State University
Doctoral Candidate, University of Wyoming. anticipated
graduation 2023
Community Activities and Memberships
An enrolled member of the Northern Arapaho Tribe
Tribal Elder
Why I am Running
For too long the Wyoming Department of Education has been politicized, focusing not on the education of children, but on the political ideologies of the person in the position. While this has been happening, our children have been underachieving. Wyoming is one of the nation's top investors in education, but our return on this investment has not been commensurate.
It takes a community to raise and educate a child. Wyoming's parents and families must step up and assure that our kids are in school, fed, and on time. They must read to and with their children. In my research, I am struck by the high achievement of one of the state's smallest communities, Pinedale. Everyone in that town is a father or mother of each child assuring that children are where they are supposed to be and when they are supposed to be there.
My experience as a professional public educator makes me well-qualified to lead education in this state with a focus on every child reaching their full potential.
Top 3 Priorities
De-politicize the Wyoming Department of Education. Assure that education is evenly and equitably distributed with love to every child regardless of age, gender, race, class, ethnicity, or sexual orientation.
Assure that our schools are as safe as possible. Every child deserves a great education, and every parent deserves to see their child getting off the bus after a safe day in the classroom.
Public funds are for public schools. Our public schools are great institutions of learning, but they are also the fabric that holds our communities together providing sports programming, access to the arts and music, meeting space and so much more.