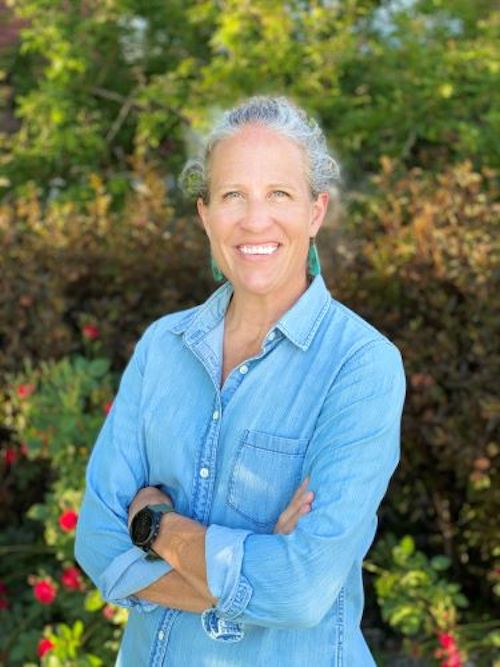 Christi Haswell (Republican)
County Commissioner - - (391)
30 Pintail Road
Sheridan, Wyoming 82801
Map It
Biography
I was born in Buffalo, WY and raised in Sheridan, WY. I graduated from Holy Name, Sheridan High School and the University of Wyoming, where I played rugby and ran track for Cowgirls. My husband Regan owns In-Yarak Construction. We have been married for 19 years and feel fortunate to be raising our three kids, ages 16, 14 and 12, here in Sheridan.
During high school and college I was a firefighter for the US Forest Service and spent three seasons on the Bighorn Mtns. and two seasons with the Wyoming Hotshots. I then had an opportunity to work in environmental consulting during the coalbed methane boom. Prior to becoming a county commissioner I was director of a consulting office managing 35+ folks doing oil and gas, mining, renewable and energy generation projects.
Currently as commissioner, I am responsible to set the budget and ensure services are provided to residents of Sheridan County. I've really appreciated my time this first term and hope to serve my county again.
Experience
I bring local and statewide experience to the board. I have 20 years experience volunteering and understand the value our businesses and non-profits bring and the challenges they face. I sit on 3 statewide boards and appreciate the network and representation it gives me. I'm collaborative and a team player with over 100 hours of mediation and facilitation training.
I want to continue to bring my experience as a leader, parent, collaborator and state/local volunteer to Sheridan County.
Education
U. of Wyoming, Bachelors of Science; 2000
Leadership Sheridan 2007
Sheridan CiViC Project 2010
Certificate of Applied Project Management; Villanova U. 2010
Mediation Training (56 hours); Wyo. Dept. of Ag.11/03,10/04,11/04,12/10
Ruckelshaus Institute Collaboration Program in Natural Resources, UW, 2016.
Faultless Facilitation Industry Training and Ed. Center, Sheridan College, 11/06
Dale Carnegie Leadership Training, Sheridan, WY 10/06
Resolving Public Policy Disputes, CDR Assoc. 10/03
Community Activities and Memberships
Sheridan Educational and Economic Development Authority; present
Wyoming 2-1-1; present
Sheridan County YMCA; present
Northern Wyoming Community College Depart of Agriculture Advisory Board; present
Wyoming Wildlife and Natural Resource Trust; present
Wyoming BLM Resource Advisory Council; present
Sheridan County Chamber of Commerce Board from 2009-2012
Center for a Vital Community Advisory Board; 2004-2012
Advocacy and Resource Center victim's advocate; 2004-2005
Why I am Running
I am running again because Sheridan County is an amazing place and I'm invested in it. I grew up here, my kids go to school here, my husband runs a business here, my retired parents and two siblings live here with their families. I've witnessed changes as we navigated COVID in the community and in schools and saw an influx of people moving here. We have incredibly engaged communities, abundant natural resources, great schools, amazing arts promotion, tourism, diverse after school programs and support for seniors. But we also have some growing pains. That includes affordable housing, employee shortages, and not unlike the national scene, some polarizing politics and non-civil discourse.
The growth we could see the next 10-20 years will test all of this. I feel strongly that my volunteer and professional experience allows me to be a positive and productive voice in these conversations and decisions that will need to be made over the next few years as we balance the Sheridan County we knew, the Sheridan County we know today, and the best Sheridan County we can be in the future.
Top 3 Priorities
Balanced Budget
It's critical that we have a balanced budget. I will continue to work closely with all County
departments to ensure that we are doing the most with our budget as well as working collaboratively with the City of Sheridan and other partners to leverage our dollars. We have a responsibility to be thinking about ARPA dollars working 5-50 years into the future and beyond for future generations.
Roads, Bridges, Infrastructure
As always, we need to maintain our infrastructure. As we develop infrastructure in the future, we need to make sure that we're collaborating with county and city planning and utilities departments to ensure projects align with priorities we've set with the community in the County Comprehensive Plan and the Sheridan Joint Planning Area Land Use Plan. We need to make sure we're being efficient with funding and leveraging dollars everywhere we can.
Economic Development
In order to remain a healthy, vibrant community, we need good jobs for Sheridan County and employees for our employers. Economic development includes job retention, support of existing businesses, recruitment of new businesses, and support of a quality of life for our community. To do this, we need to be a proactive partner by partnering and engaging in existing and future efforts with the Chamber, the College, our economic development organizations, business leaders, elected officials and community members while cultivating the quality of life we enjoy into the future